Klangteppich presents concerts with contemporary musicians from Iran and the Iranian diaspora and of people who address Iran artistically.
Klangteppich initiates new musical encounters, invites you to explore contemporary styles of playing in the global South and questions Eurocentric perceptions of music.
Klangteppich is committed to live music – folk, improvisation, sound art, electronic music, jazz and pop.
Klangteppich II took place at Theater Aufbau Kreuzberg on September 19, the festival was funded by the Musicboard Berlin GmbH.

Klangteppich II presented four premieres by artists from Berlin, Copenhagen and Vienna.
All photos by Cristina Marx
Alireza Sheibani premiered "your fossil, over there" for amplified bassoon and tape by Rojin Sharafi and the Solo for bassoon in C major by Karim Googerdchi at the festival.
Rojin Sharafi from Vienna played a solo performance with santur and electronics.
uon + Lizzy presented songs with the poetry by Forough Farrokhzad, Simin Behbahani, Rumi and their own. It was their first collaboration, hopefully not the last.
"Edit In Recorder" was the result of an exchange with Jaleh Negari over the course of two years.
Negari has developed her own method for translating field recordings into graphic notations, which in turn are the basis for new compositions. For this she also uses field recordings from Iran, which she recorded herself, she works together with instrumentalists and creates special environments for exhibition spaces in which the reciprocal relationship between sound art and drawings can be experienced.
For the premiere at Klangteppich II, Negari teamed up with electronic musician Arash Pandi from Sweden and Berlin bassist Derek Shirley.
Their performance was made possible through funding by the Danish Arts Foundation.
Roshanak Rafani has been studying with Dominic Oelze at the Barenboim-Said Academy in Berlin since 2018. Rafani studied the Iranian drums Daf and Dayere with Hooman Tootoonchian, with the composer and musician Sara Ahmadi and Tonbak with Amir Moqareb Samadi. She studied European percussion with the conductor and musician Milad Omranloo, and also holds a B.A. in social sciences and a German language diploma. Since 2016 she has worked as a percussionist in the Tehran Percussion Ensemble, of which she is a co-founder. Since 2013 she has performed regularly at the International Fajr Music Festival, she has given concerts in Armenia, Kuwait, Spain, Sri Lanka and Turkey with various groups.
It was a special honour to present her first solo concert in Germany at Klangteppich II.
The poem "The little Window" by Masoume Forough was translated by Sina Jamali exclusively for this occasion.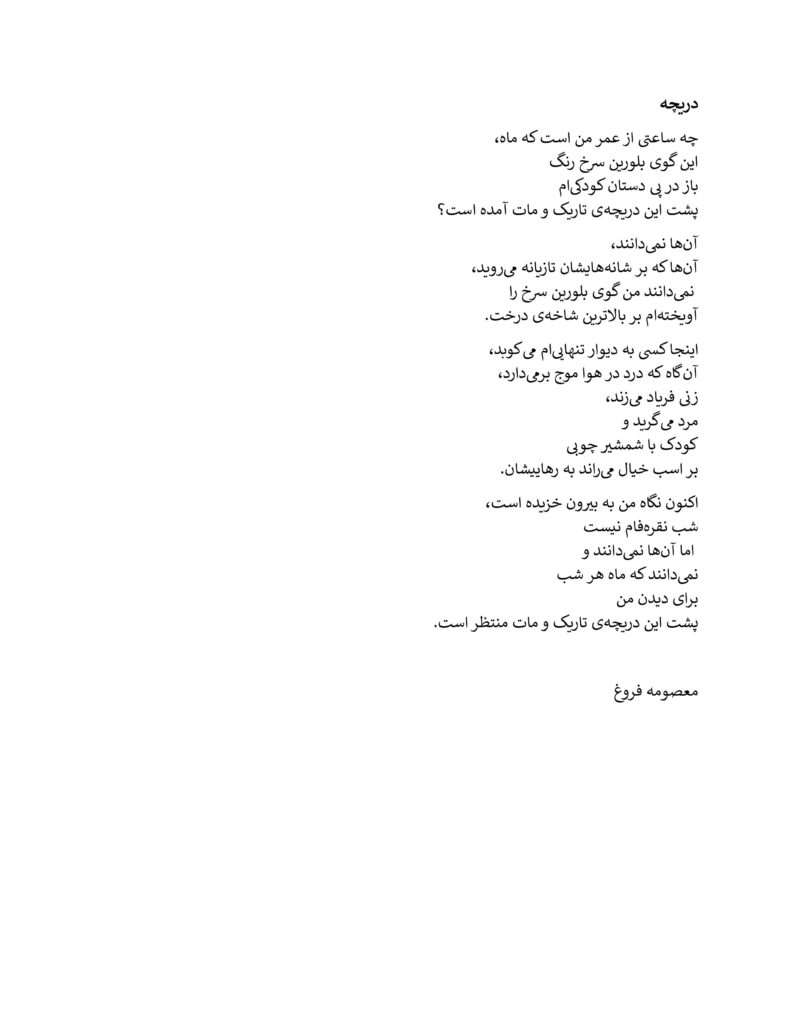 Klangteppich II was funded by Musicboard Berlin GmbH