From October to December 2019 I stayed in Dushanbe/Tajikistan, supported by the Institute for Foreign Relations (ifa). I stuck to my writing practice there and did extensive research.
The texts are written from a personal perspective, not with a journalistic approach. The selection was edited in August 2020.
Cultural memory in Tajikistan is in a very vulnerable state. After the collapse of the Soviet Union, the independence in 1992 and the end of the civil war in 1997, there is something like a state doctrine to consolidate a "national identity". But what exactly this identity should contain, what historical backgrounds and traditions it can refer to, and how it should be carried to the outside world, seems to be completely up in the air and dependent on arbitrary decisions of the respective rulers. What should the many young people who were born in the 1990s onwards learn about their country?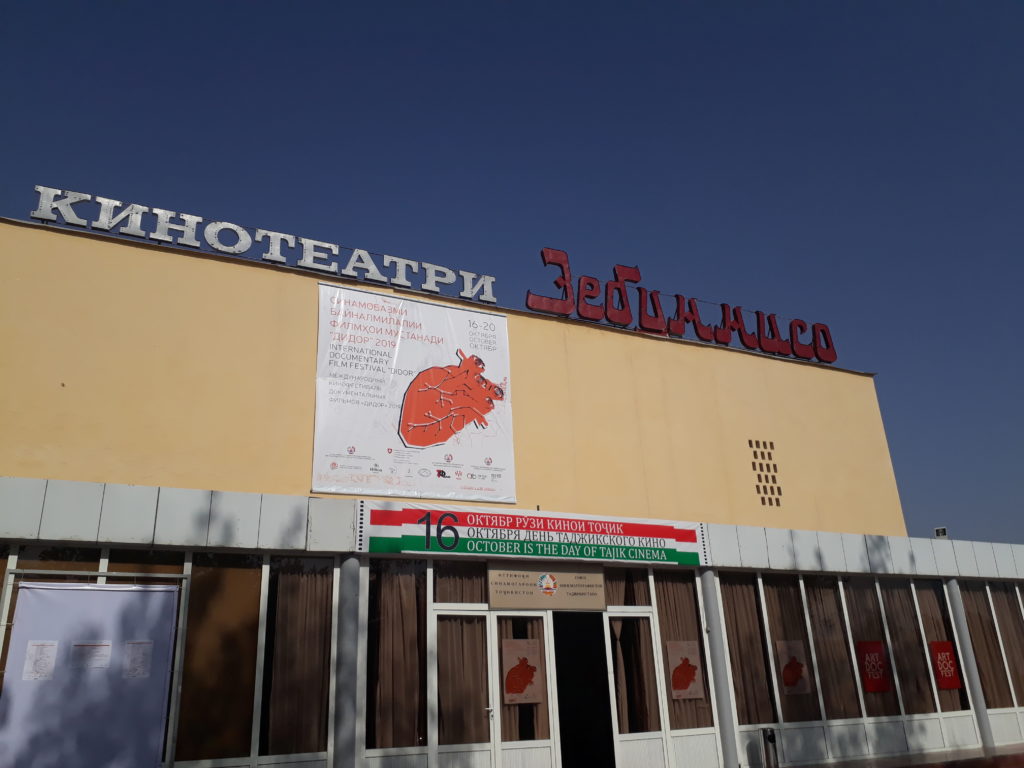 The international documentary film festival "didor" takes place in a cinema built in the 1970s on a highway. Admission is free, but advertising was so sparse that only a few people find their way to the festival. I hear that even art students had to be encouraged to attend by their lecturers, because they themselves would not have been interested. During my sojourn in the cinema, the electricity cuts twice, so the screenings are interrupted or start later. I watch seven documentaries, five of them from Tajikistan, one of which remains in my memory: "The best place on earth" by Roma Buryak. Filmed in black and white, the film portrays young adults who are torn back and forth, whether they should leave Tajikistan or not. Russia used to appear as an option, one of the young people tries it in China, another stays to look after his mother, who has no one else. They all dream of a better life and doubt whether it can be realized in Dushanbe.
In November, a music competition takes place in the Opera and Ballet Theatre, for composers aged 16 to 35.
The auditorium is full of students from the music conservatory and school classes who have been obliged to visit. The concert starts more than an hour late, without any reason given. On stage there is an orchestra of music students and a handful of teachers. All at ground level, there are no platforms for the wind and brass instruments and the percussion. The female moderator is wearing something like an evening gown, purple velvet with golden applications that are supposed to look "Tajik", an overhanging piece of artificial hair and a lot of make-up. The male presenter says the important things, both read every sentence from their papers.

The event, unfortunately I have to write it this way, is bizarre in every respect.
Each piece of music is between three and ten minutes long and technically not too demanding.
According to their form they can be denoted as classical music, first exercises in the ABC of composing. Individual, short passages sound at best like film music, the meters are pleasing, the romantic and expressionistic gestures are absolutely predictable. All orchestral groups have difficulties hitting exact pitches, even passages that can be played faster sound sluggish. I don't have the impression that there has ever been any work done on something like an orchestral sound, on a common way of playing, on connecting timbres. Each and every one of them plays only to her- or himself, the scores do merely serve as vocabulary books. The volume is constant, there is no sense for dynamic changes, not even in relation to solo instruments. Deeply appalling for me overall. Every student suburban orchestra in Germany has better prerequisites for the development of professional playing styles and as a binding ensemble, no matter how temporary. How should these young musicians ever learn something like extended techniques on their instruments? Ho could they even develop a touch of a feeling for contemporary music? The level of their teaching must be insanely low, probably there are no really professional teachers. The situation applies similarly to the compositions: none of them brings something like its own sound language to the ears, there is a lack of the ability to search for and decide for one's own means of expression and a lack of meaning that would give a work a kind of a substance. Why works that are neither fish nor flesh are played by musicians who are not equipped with any tools for a musical career is a complete mystery to me. My incredibly sad summary: none of the musicians and composers would have any chance whatsoever in the world of classical European music.
Finally, the cameramen put me over the edge. They maneuver their old-fashioned video cameras and lights across the hall at every moment, no matter whether the music is quiet or not. They stand right next to the rows of spectators and film the audience. It makes me very uncomfortable – not only because they completely disturb the concerts, but also because I simply don't want to be filmed. This thought alone does not seem to exist here. So I start filming them with the smartphone, although it is not allowed here. They notice it very late, turn off the light and walk to another place in the room.
Kuwait presented itself with an event in the Opera and Ballet Theatre that was free of charge. Kuwait and Tajikistan have probably only recently concluded a number of economic agreements, and now cultural exchange is also to be fostered. After official speeches by the Tajik Minister of Culture and the Kuwaiti Ambassador and the exchange of gifts, a Tajik dance group performed.
The music was played from tape, on the screen behind it traditional Tajik patterns appeared as psychedelic projections. What was shown here is intended to represent tradition, and some of the hand gestures of the dancers are certainly also considered traditional. But the performance reminds me rather badly of times when I had to learn Soviet folklore dances and saw documentaries of Soviet dance competitions from the 1970s. It is so obvious that this performance has nothing to do with Tajik culture, but is intended to convey a certain image to the outside world. Only what exactly? Smiling women with long braids, waving skirts, gold jewelry and delicate hands? That cannot be what people here associate with their cultures.
Culture, for very understandable reasons, cannot be an issue for people who struggle daily with existential concerns. Those whose families are disrupted (due to labour migration), who have no role models (brain drain), who have experienced war, who are faced with ruins of their existences (demolitions), who are not allowed to take any other attitude than the official one (ban of the opposition party), who are not allowed to defend themselves (corruption), who are not allowed to make their own choice for their lives (arranged marriages). What is the point of talking about "culture as identity" if there is only one official historiography that is even dependent on the current state of the ones in power? This may be historically correct, but since Tajikistan's independence the cultural heritage has been interpreted completely arbitrarily and subordinated to certain interests. How can something like a sense of community be created or the awareness that a cultural event can be a personal enrichment that cannot be measured in money?